Coffin Mufflers are the
best.
mufflers.
what we do
Not only do we manufacture the Coffin Muffler, we have an awesome, fully-functioning shop where we do custom installs and car builds. In everything we do, we make sure we take the time to do it right.
We buy and sell cars and motorcycles. We are always looking for old Harleys, Indians, old cars, and trucks. If you have any of these please contact us.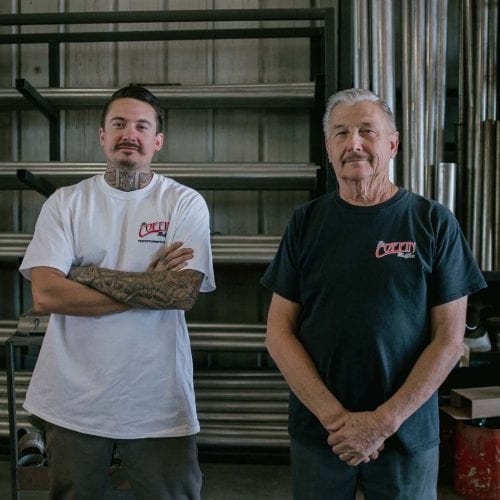 Find us on Facebook to stay up-to-date with the latest Coffin Muffler projects and news
still on the fence?
why buy
coffin?
PROUDLY Made in the USA
We use the highest quality, American-made aluminized and stainless steel. Made by Americans, in America.
Custom Coffin Style
The Coffin Muffler is the only one of this design. Fully patented, trademarked and copyrighted.
Family Owned Business
We are a 100% Family-owned business. Our roots go deep in our hometown because to us, our name is everything.
Increased Fuel Economy
Curabitur arcu erat, accumsan id imperdiet et, porttitor at sem. Nulla porttitor accumsan tincidunt.
Increased Throttle Response
Curabitur arcu erat, accumsan id imperdiet et, porttitor at sem. Nulla porttitor accumsan tincidunt.
Increased Horsepower
Curabitur non nulla sit amet nisl tempus convallis quis ac lectus. Nulla porttitor accumsan tincidunt.
how our mufflers
make all the difference
Our Coffin Muffler is probably one of the most unique designs in the history of mufflers because our mufflers are not chambered.
When we designed the Coffin, it was all about horsepower and gas mileage. Sound was another very important issue. We wanted a sound that was unique to our product only. And that we did accomplish.
Our Coffin Muffler is made of 16 gauge aluminized steel. A very long lasting metal. The veins on the inside of our Coffin is where we get that Coffin sound. Our muffler is of the "vortex" design, which pulls the exhaust and pushes the exhaust through the muffler. Our muffler works great on all applications: 4 cylinder, 6 cylinder, V8s, V10s and diesels.
sponsors & partners
We would like to recognize the companies and friends that not only help us out but individuals and groups we also support as much as possible. Please take a moment to view their websites and what they have to offer!
Want to sell the Coffin Muffler
in your shop?
At Coffin Muffler we're always looking to grow and expand the reach of our quality products. If you'd like to carry our custom, "made in the USA" products in your store, we'd love to hear from you.